Post by yuna sverina lace on Dec 15, 2010 23:12:01 GMT -5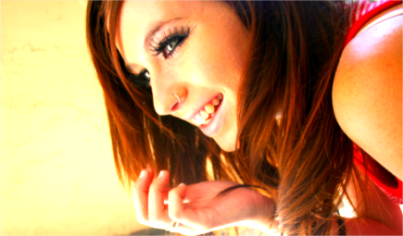 MOVE YOUR BODY WHEN THE SUNLIGHT DIES
EVERYBODYHIDEYOURBODY
[
F R O M T H E S C A R E C R O W; E V E R Y B O D Y H I D E
]
The silver beams of the moon reflected off of the water's surface, casting a grey shadow over the grassy banks. The clouds of the night were not out, so the moon was strong and full, like a colossal, white light. But the moon not only affected the trees and the grass and the water, it affected those beings who were called lunatics, in their own respect.

Yuna was one such lunatic, ravenous for that crater-faced, cold, rugged chunk of rock floating in the night sky. When that milky-colored boulder appeared from behind the clouds, from behind the sun, and was thrust in the physical world, that's when Yuna would become her greatest, fiercest entity.

A lunatic such as herself had really no right in being at the creek, especially on such a chilly night. However, her mind had expressed the need to find a quiet, relaxing spot to weather out the full moon. Yuna knew soon that her instincts would get the best of her, and that she'd be frightening small animals and perhaps even herself. This was why she wanted to be away from her pack, because as a wolf, Yuna felt like a monster, even though she was strong and swift. She was always at war with herself. She loved and hated her curse. She loved it because it gave her abilities that normal humans didn't possess; alas, she also loathed it because she was seen as an enemy to the humans, who she usually loved to fraternize with.

Yuna padded lazily down the bank of creek, her maw close to the ground, scenting trails of past animals. There were old smells, new ones, and ones that even smelled a little out of place. However, nothing that was really strange to Yuna. There was nothing out of the ordinary here, except possibly her. It was a great place to simply listen to the insects chirp and the water lap at the bank, but Yuna was looking for something more. Despite her original intentions of coming to relax, she decided she wanted to have some kind of action.

A sharp yelp came from behind her, and that was immediately followed by a whimper. A tiny, white wolf pup trailed after Yuna, covered in brambles. He briskly trotted up to her, looking at her with big, blue eyes. Yuna met his optics with her own and began to move the brambles off of him with her paw.

"Go back home," Yuna snapped to him, nudging him back from whence he came with her muzzle. He growled playfully in response, pushing against her. Yuna nudged him a little harder, causing him to stumble forward. He glanced over his shoulder at her, tail and ears both drooping. His sapphire eyes had the saddest expression in them, but Yuna's decision remained unchanged. The young wolf started to tread unhappily back toward the bushes he came out of. She watched him until she could see him no further and then turned to the water.

Yuna clambered down the bank until she reached the water's surface. She dipped her paw into the water, only to withdraw it with a growl. It was terribly cold, chilling to the bone. There was no way she was going to take a swim in that.

She turned around to climb back up the hill, but as she began to ascend it, she simply sunk back down. Yuna placed one paw forward and burrowed her claws deep into the earth, heaving upwards with her back legs. She gained some footing, but the loose dirt and mud caused her to slide back down to the water's edge.

Yuna drew her lips back in a furious snarl at nothing in particular. She was simply angry that she couldn't get up the side of the hill. She began to pace back and forth, brainstorming on how to get out of there.

Her eyes were called forward to the other side of the creek. The bank wasn't as steep there, but the water was frightfully freezing and damp. No, no, that wasn't an option. Yuna would much rather brave the climb, rather than the swim.

She backed up a bit, just until she reached the brink of the creek and then got a running start at the bank. Yuna was able to reach the top, but with no hands or thumbs to grab anything, she was forcefully flung on her back.

Yuna immediately got to her feet, casting a dark glare at the hill. This battle wasn't over, even if she had to tear the bank apart. She continued to clamber up the bank. She even tried following the river to find a shallower spot, but there was no luck.

By that time, Yuna was completely exhausted. Her chest was heaving and her heart was racing. The adrenaline began to pour into her veins as she realized that she may be stuck down there until the water rose or it froze over. By then, she could be frozen also, or even dead!

Yuna began walking in circles, her eyes glazed and her brain absent. What was she going to do? There was no getting up this hill, and Yuna wasn't a strong swimmer.

Only ever as a last resort would she succumb to asking for someone's help, but now was as good a time as ever. Yuna stopped for a moment, and looked up the moon. Her maw opened gently, allowing a low-pitched howl to emit from her vocal cords. As she became more distraught, the howls became higher and louder. Between her howling, she would bark and yelp, like a pup without its mother.

Yuna felt so helpless and it was embarrassing, but if someone didn't come, there was no telling how long it would be before she got out.

She lowered her eyes, staring at the mud for a moment, before she sat down upon it. She realized that it was useless to put forth anymore effort into getting out. She was only wearing herself thin, and if she had to stay her awhile, then she could needed all the energy she could get.


( WORDS :: 1039 ) ( TAGS :: anyone ) ( CREDITS :: lyrics from "S/C/A/R/E/C/R/O/W/" by my chemical romance, template by THROUGH THE TREES of caution two-point-oh ) ( NOTES :: yey (: )